Valentine's Day Card SVG Files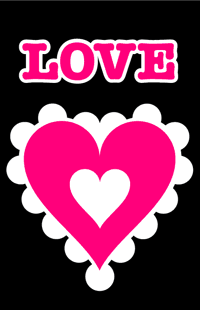 An easy Valentine's Day card.
Use 8-1/2" x 11" card stock folded in half. Finished card size is 5-1/2" x 8-1/2" and will fit into a standard 5-3/4" x 8-3/4" greeting card envelope.
Three SVG files provided (love, white heart and pink heart). The SVG files can be cut using the
Sure Cuts A Lot software
and a Cricut® cutting machine. Use the smaller heart that is removed from the lower white heart on top of the pink heart.
You should be able to find nice bright pink neon cardstock in the same aisle as mat board and poster board at your favorite craft supply store. I found a pack of 5 assorted color 11" x 14" sheets for about $1.89.
Download SVG files below.


Search
Follow

Get an email message whenever a new design or SVG file is posted!
Quick Links
This work by Paper Yoga™ is licensed under a Creative Commons Attribution Noncommercial Share Alike 3.0 United States License. You are welcome to download any original SVG files on this blog for personal use, but please do not use them for sale or profit. If you post a project using any of these files to any web site, blog or any other digital or printed media, please provide credit and a link to this blog.
From the Archives